Quikr
is a quickly growing online classifieds platform with millions of Indians benefiting from it everyday. But with immense popularity comes inherent challenges. There are many issues related to privacy and transaction handling that was reported in the recent times. But Quikr has come out and answered all these challenges in a very smart way with recent announcement of "Quikr NXT", a chatting feature that is so unique to online classifieds platform, is now seamlessly integrated into Quikr platform across mobile and desktop versions. This blog post focuses as a seller or buyer why I would prefer Chat based approach over existing phone based approach to deal with transactions on
Quikr
!
Firstly, if I am a seller, leaving my phone number on the Internet means a lot of privacy risk! Though this information is intended for a meaningful purpose of potential buyers reaching me directly to deal with transactions, any miscreant with malicious intentions could tap this information and use it for their own purpose! Mainly female sellers are at great risk if the information shared is used for ill activities unknowingly. With Quikr NXT, there is no more privacy risk as I don't have to share my email address or phone number directly with buyers. All dealings are carried out using my Quikr ID with which I can directly chat with potential buyers looking for more information about the item. So no more worry or concern over my privacy!
Next, in the traditional phone based approach, as soon as I post my advertisement for selling an item, I used to get bombarded with numerous phone calls requesting information about the item. It is not as such bad receiving a lot of attention over the item I want to sell but the problem is not everyone notices the advertisement at the same time. I used to face a huge problem of receiving phone calls at totally uncomfortable timings spoiling my mood most of the times! There was no provision to restrict potential buyers reaching me during certain timings. It was as if, once I post my advertisement I am totally at buyers mercy! Now with Quickr NXT, potential buyers seeking more information about the item could just leave me a message via Chat and I can respond back to them at my 'earliest possible comfortable time'! Now no more inconvenience and in fact both parties can live in peace! :)
Lastly, there are circumstances when I have multiple items put on sale via Quikr! With phone based approach, there are times when I got totally confused answering people requesting different information for different items. For sellers, it is always the item that they see for sale that they want more information about. But on the selling end, it used to be irritating, confusing and challenging at the same time remembering different interested parties and making transactions with them. Now thank god for Quikr NXT, there is Chat and Chat history that I can use to put myself in context first before answering people with relevant information that they are looking for. Also I can precisely handle each of their requirement on the go with photo or video of the item in a more specific way they request. I can easily answer the buyer's requirements in real time. Makes life so easy for both buyers and sellers!!
So, no more Fikar. Just Chat Quikr and Bech Quikr!!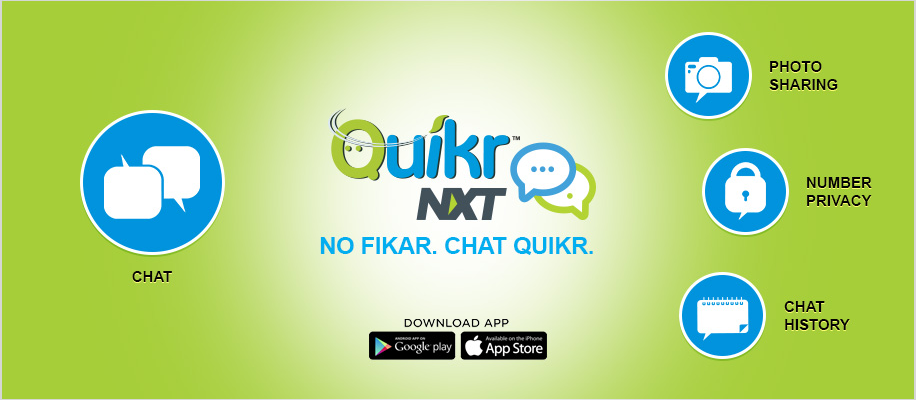 This post is a part of IndiBlogger Happy Hours
topic
"Get Quikr NXT!"